Hello,
I am using Pulse 4.7 on RHEL7 with Apache 2.4.6 and PHP 5.6.
For a strange reason, every page served by Pulse begins with <? and end with <? as well.
Not sure where that comes from.
On Chrome and Firefox that would not be a problem since they're smart enough to get rid of the extra character, but IE is not that smart so it fails to render the page correctly.
I have removed all the blocks to reduce complexity but that didn't help. This is how the source looks like: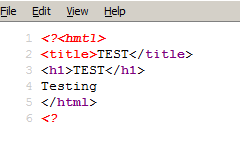 Appreciate your help.
Regards,
Judhi