Hi, as you might know, when using a different language than english in Pulse, the whole UI is still translated except the editor Redactor.
In this little Tutorial I wanna show you how you can translate Redactor and the included plugins to your language.
The first thing is to head over to https://imperavi.com/redactor/docs/languages/
Here you can download your desired language file, in my case "de" for german.
Copy this language file (for example de.js) into your Pulse installation directory: admin/js/redactor/de.js
The next step is to edit some files. Open redactor_options.js in the same directory and change the lang attribute to your downloaded js file.

Now open the admin/index.php and add the .js file to the <head> section.

<script src="<?php echo $path.'/'.$admin; ?>/js/redactor/de.js"></script>
Okay, normally that's it, but here we have a few problems.

The given language file (in my case de.js) had many errors and many strings were missing.
There are 3 plugins inside redactor imagemanager, table and fullscreen which will also be translated.
Let's start with the language file. I will attach my language file, so you can compare it with yours, or you are from germany than you can just use it.

The table plugin is well coded and uses lang attributes so we can use them in our lang file. Here are the missing strings shown below, maybe it's a bit different in your language file: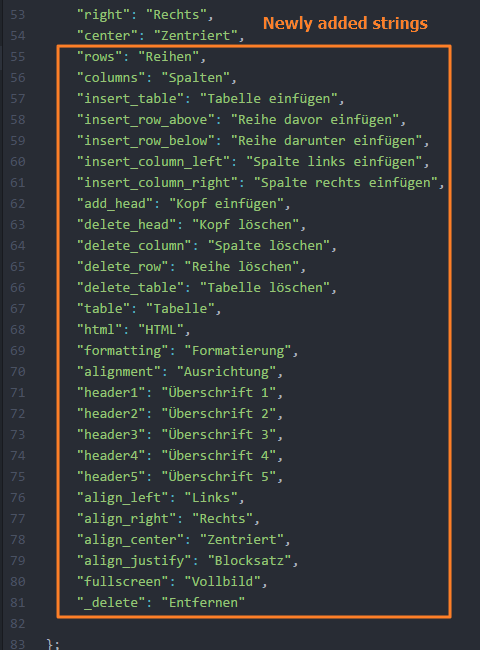 Now open imagemanager.js (admin/js/redactor) and head over to line 17/18.
Here are the two strings "Upload" and "Choose" hardcoded:

The last file is fullscreen.js, open it and go to line 10, another hardcoded string to change:

Okay, we did it. Now everything should be translated.

A final note, think about that this solution is not update proof, so you have to backup change/overwrite your files.
In my case that is okay and my clients are happy.

My de.js file: https://dl.dropboxusercontent.com/u/6744882/de.js