Hello Pulsers. I'm a newbie, so please be gentle with me, as I am on a steep learning curve here.
I've created a site in Blocs 2.5.2 that I now want to import into Pulse5 CMS. I've already created a test version - which is online here – that works fine. Now I need to add the content management and blog features, so have specified the areas of text, images etc., that I want to be able to amend using Pulse CMS in the Blocs app.
I decided that I wanted to test the site locally before uploading everything to my ISP. So following the instructions on a Pulse CMS video on YouTube, I installed MAMP on my Mac. Then I placed a copy of Pulse5 CMS in the localhost folder. From the Blocs app I chose Export > Export As… > Pulse CMS Theme > Pulse 5. This generated a folder containing "content" and "template" folders, which I dropped into the Pulse 5 CMS folder and replaced the original ones that were there.
Using my default browser - Safari - I then went to the localhost, which displayed the homepage. As you can see from the screen shot below, I see some of the site, but not all of it. Links to some JPGs, PNGs and SVGs appear to be broken.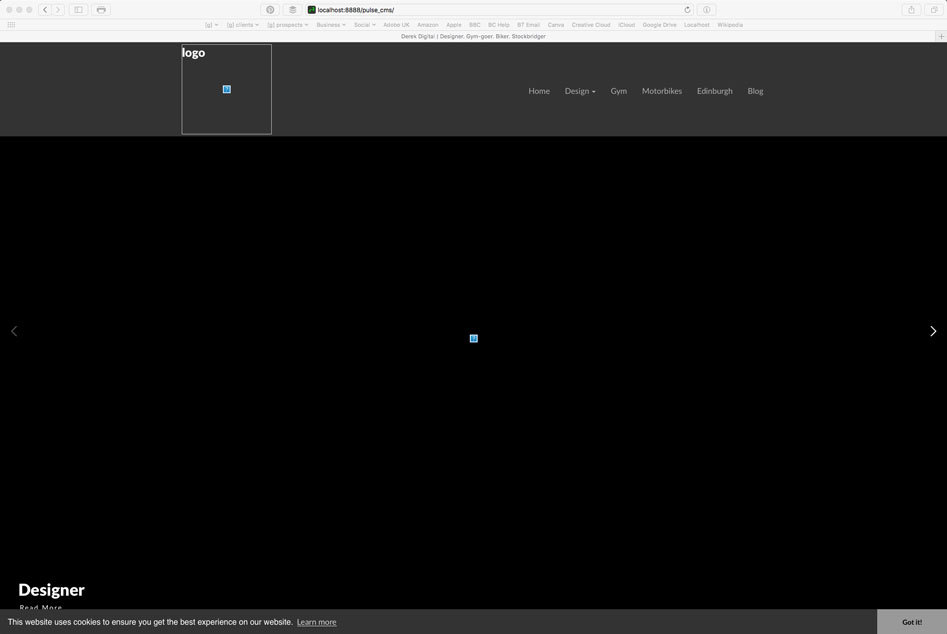 When I click a link to go to a different page in the site, the browser shows just a white screen. I noticed in the URL bar, there is a lot of tech info between the folder and page paths. It reads:
localhost:8888/pulsecms/%3C?php%20$path;%20?%3E/design
Once I removed those characters from the URL, so it reads "localhost:8888/pulsecms/design" the page loads, but still the links to JPGs, PNGs, and SVGs, are broken. Although backgrounds images displayed fine.
In summary, what am I doing wrong? I feel that it's either the export or import process that I'm not doing correctly that is causing this problem. Or have I not set up MAMP correctly? Any thoughts you may have would be gratefully received.
Thanks!